Queen of Puddings in Europe with Love Songs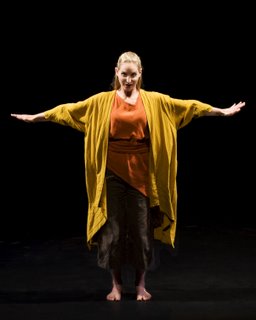 QUEEN OF PUDDINGS MUSIC THEATRE
LOVE SONGS Tours EUROPE
Canadian Production Debuts in Paris, Ljubjana and Zagreb
Queen of Puddings Music Theatre's stunning one-woman show, Love Songs debuts in Europe this weekend at the legendary Centre Culturel Irlandais, in the historic Quartier Latin in Paris (France) on Saturday, April 18, followed by performances at Cankarjev Dom – a multi-venue state-of-the-art performing arts facility in the heart of magical Ljubjana (Slovenia) on April 21, and in Zagreb (Croatia) on April 24, as part of the prestigious international Zagreb Music Biennale.
Love Songs is a spectacular virtuosic (a cappella) tour de force for solo female singer starring mezzo-soprano Lauren Phillips. Award-winning composer Ana Sokolovic chose her favourite love poems from many different languages, set them to music and framed each set with "I Love You" in 100 languages. A Queen of Puddings commission, Love Songs had a very successful premiere in Toronto last year at the Canadian Opera Company's Richard Bradshaw Amphitheatre and was remounted at Harbourfront in July 2008, and in Montreal in February 2009. "…a magnificent work… Phillips went beyond virtuosity and entered into the various states of love with purity of heart as well as voice, and conveyed an exhilarating freedom and daring as she leapt from language to language – especially in the dizzying "I love you's" - Tamara Bernstein, The Globe and Mail (March 2008)
Lauren Phillips has been described as "incantatory" in her singing. Originally from Ottawa, she has won Opera Guild Scholarships, a University of Western Ontario Gold Medal, as well as the Vivian Asfar Memorial Award through an opera competition as a young artist with Opera Lyra Ottawa. Ana Sokolovic was born in Belgrade, Yugoslavia and is now based in Montreal. Her works have been performed in North America and abroad. This opera is her third collaboration with Queen of Puddings Music Theatre (having written Sirens and The Midnight Court). Ana Sokolovic has won many distinctions and prizes, including the CBC Radio National Competition for Young Composers. She also represented Canada at UNESCO's International Rostrum of Composers in Paris.
The Toronto based Queen of Puddings Music Theatre creates boundary bursting music theatre – a music theatre that is dynamic, provocative and precedent setting. The company, founded in 1995 by Artistic Directors Dáirine Ní Mheadhra & John Hess, is acclaimed for its unique aesthetic based on a physical, singing theatre.
LOVE SONGS
Singer Lauren Phillips
Director/Choreographer Marie-Josée Chartier
Music Director Dáirine Ní Mheadhra
Production Manager/Lighting Designer Glenn Davidson
This tour has been made possible through the Touring programs of the Canada Council for the Arts and the Ontario Arts Council.
Labels: queen of puddings music theatre, theatre