WSO Remembers World Renowned Pops Conductor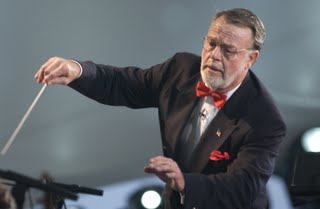 The Winnipeg Symphony Orchestra
is saddened to recognize the passing of former
WSO Pops Conductor
Erich Kunzel
. Kunzel was the Pops director of the Winnipeg Symphony Orchestra from 1981 to 1999, he presented many diverse programs that drew large audiences to the Concert Hall. Kunzel has served as the Cincinnati Pops Orchestra music director since 1977 where he has produced several highly rated television specials and received world wide acclaim for his numerous recordings. During his tenure at the WSO, Kunzel released two WSO recordings in 1985 and 1986 Kunzel on Broadway and More Kunzel on Broadway. Kunzel had a reputation among audiences and musicians alike of delivering electrifying shows that were as precise as they were passionate.
"I am deeply saddened hearing of Erich Kunzel's passing due to cancer. I remember him as a real dynamo on the podium, able to push his way through mountains of repertoire with a flair and exuberance which is rarely seen. His concerts with the WSO were real events which audiences appreciated. Many times his programming was very difficult for the orchestra, especially when the rehearsal schedule allowed for only a minimum amount of time for preparation before a concert, but his energy and clarity on the podium allowed for great performances. Also, his ability of speaking so easily to an audience always enhanced the concert. For the Pops audiences across North America he was truly the Prince of Pops. Farewell." said Principal Flute and board member Jan Kocman.
Erich Kunzel was diagnosed with liver, colon and pancreatic cancer in April but continued conducting while undergoing treatment. He died Tuesday morning at a hospital near his home in Swan's Island, Maine.
Labels: Erich Kunzel, winnipeg Symphony Orchestra