5-Penny presents MIKROKOSMOS, music for sixteenth-tone piano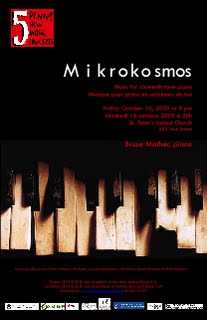 Sudbury Concert Features Extraordinary Piano

Distinguished composer-pianist Bruce Mather is the featured artist as Sudbury's 5-Penny New Music Concert series launches its 2009-10 season. The concert is on Friday, October 16, 2009, at 8 p.m. at St. Peter's United Church in Sudbury. Admission is $15 and $10 for students. Tickets will be available at the door or at Black Cat, 96 Durham Street, Sudbury.

For this concert, Mather will bring from Montreal his "microtonal" piano. The only one of its kind in Canada, it looks like an ordinary piano but sounds extraordinarily different. The instrument is pitched in sixteenth-tone intervals from key to key, instead of the semitones of conventional pianos. It has 97 keys instead of the usual 88, yet the instrument spans only one octave from top to bottom. Within this range, delicate waves of sonorities are created as the performer moves between the intervals.

At the concert, Mather will perform selections from his set of Microtonal Etudes. Composed in 2000, they explore a range of expressive moods in a shimmering, bell-like style reminiscent of the Javanese gamelan. Also on the program are pieces by John Burke, Jacques Desjardins, John Oliver, Gilles Tremblay and Alain Banquart, the latter with electronics.

Born in Toronto in 1939, Bruce Mather taught at McGill University until his retirement in 2001. A leading figure in Canadian contemporary music, Mather has written extensively in a variety of genres. He has performed widely as a pianist, including with his wife, Pierrette LePage, as a member of the Mather/LePage piano duo.


This event is presented by the 5-Penny New Music Concerts in collaboration with Laurentian University and Cambrain College. It is also made possible with the financial support of the Canada Council for the Arts, SOCAN Foundation, Ontario Arts Council, and the City of Greater Sudbury.

Labels: 5-Penny New Music Concert series, Bruce Mather, sudbury