La Scena Musicale July-August 2010 Issue to Appear
[
Version française
]



The Music Scene Summer 2010
---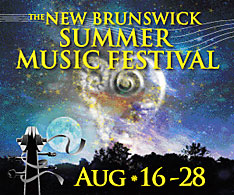 Let us put the shine to your line!!!


English copy-editing and French to English translation services:
lsv@lascena.org
The deadline for advertising is June 25.
La Scena Musicale
closes its 2009-2010 season with its July-August issue featuring an in-depth profile of Canadian soprano Adrianne Pieczonka. Hot off the competition season, the next issue of the magazine will also cover the Prix d'Europe, Canadian Music Competition and Montreal International Music Competition. Furthermore, 150 years after his birth, we pay homage to beloved composer Gustav Mahler – Norman Lebrecht answers the question "Why Mahler?." And for those lazy summer days, plan to curl up with a book from our Annual Reading Guide. In it we introduce you to non-fiction and fiction gems which will be sure to intrigue the music-lover. Finally, 150 years after his birth, we pay homage to beloved composer Gustav Mahler.
Of course, music lovers are also arts lovers! In this month's
La SCENA Express
section, we feature the world's first international circus festival. The Complètement Cirque festival will go off with a bang this July in Montreal. Gallery goers will also be glad to find a profile on Paul-Émile Borduas, who will be exhibited at the Montreal Museum of Contemporary Art until October 2010.

Don't forget: each month our subscribers receive a free Discovery CD (in partnership with XXI Records). Performances of celebrated opera arias by Canadian coloratura soprano Pierrette Alarie make up our next disc. What a rare treat! And of course, jazz and world music, reviews, music news items and other articles on music and the arts will also be found in the upcoming issue.
The deadline for advertising is June 25.

Reach over 50,000 readers with 25,000 copies distributed in Montreal and the province of Quebec, and another 25,000 copies in English Canada.
La Scena Musicale
contains award-winning editorial features, an extensive calendar of events (for the province of Quebec, including radio and TV listings) and product reviews; readers consult each issue 4.5 times a month, generating 225,000 viewings per month.For more info on rates and production please visit
http://ads.scena.org
for our 2000-2010 schedule or contact our sales department directly at 514-948-0509 or
sales@scena.org
.To subscribe, call 514-656-3947.
Yours sincerely,
Wah Keung Chan
Founding Publisher and Editor
La Scena Musicale
La SCENA
The Music Scene
------------------------------
-

------------------------------
-
La Scena Musicale :: July-August 2010
Total 25,000 copies, 50,000 readers

Québec City: 2 500
Montreal: 18,500
Newsstands: 2,000
Mailing: 2,000
Deadlines:
Deadline for ad reservations: June 25
Deadline for artwork: June 25
Distribution: June 30

La SCENA Arts and Music Directory
(Montreal Edition)
2nd edition
The only Arts Directory in Quebec
Read All Year Long
Theme: Back to school
Contents: schools, purchase, choir guide, competition guide, venues, ensembles, websites and much more
Subjects: music, dance, theatre, film and visual arts
Appearance: August 16, 2009
Ad Deadline: August 6, 2009
Print run: 25,000 copies
Distribution: Montréal and area
Target audience: students (high school to university level to adults), amateur and professional artists, music and arts lovers
To register, visit http://bit.ly/2010artsdirinfo
________________________

Special Festivals Page
La Scena Musicale, La SCENA
and
The Music Scene
are the places to find information on International and Canadian music and arts festivals in 2010 (in print and online). Visit our special 2010 Festivals page at
http://festivals.scena.org
for the complete coverage of 2010 festivals:
International Classical Music Festivals
Canadian Jazz, World and Folk Festivals
Canadian Classical Music and Arts (Dance, Theatre, Film and Visual Arts) Festivals
latest news and reviews
------------------------------
---------------------

Subscription
The subscription include benefits such as the Naxos Music Library (39,000 CDs streaming) and free MP3 downloads of the Discovery CD Collection (10 full CDs).
Note: New for 2010, only paying subscribers will receive the physical Discovery CD.
http://scena.org/LaSCENACard/index_en.html
NEW: The La SCENA Green Card
All available online
Electronic versions of La Scena Musicale/La SCENA (10 issues) et The Music Scene(2 issues)
Downloadable monthly Discovery CDs (10 / yr)
42,000 CDs @ Naxos Music Library
Only 25 $ (taxes included)
514-656-3947, sub@scena.org

---------------------------------------------------
---------
------------------------------
------------
NEW Endowment Fund:
Our application for the matching program, Placement Culture, has formally been accepted: for every dollar donated to LSM/TMS, the Québec government will contribute one dollar and fifty cents. Placement Culture is designed to create endowment funds for charitable arts groups like La Scene Musicale/The Music Scene. Our goal is to raise $100,000 until November 30, 2010, which combined with the government contribution, will create a $250,000 endowment. This will help us continue our magazines's excellence and innovation for years to come. We are therefore launching at this time our 2010 endowment fund campaign. Please join our fundraising committee or make a donation.
Please contact 514-948-2520 or
info@lascena.org
______________________________
______________________________
_________________________
Donations Requested:
La Scena Musicale/The Music Scene
is a registered charity promoting music and the arts through three magazines and a website. We connect musicians/artists, the arts community and music/art lovers together through education and information. Help us continue our work with a donation (cash or goods) or by volunteering.
Please contact 514-948-2520 or
info@scena.org
Donate at
CanadaHelps.org
or through Paypal
Charitable tax no. 14199 6579 RR0001
------------------------------
------------------------
Labels: LSM_News